Historical event- where will you be?
It's happening. A total eclipse of the sun. Do you know where you'll be on August 21, 2017? Well, if you are in the United States, you may want to see how close you are to the path of totality, and experience a historical life changing event.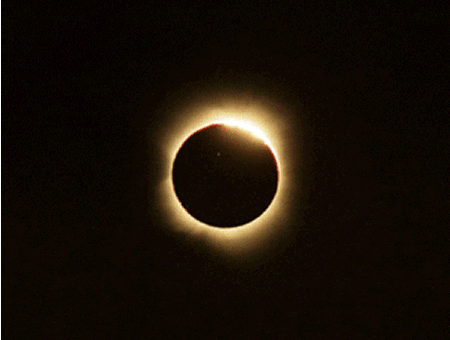 What is totality? It is a path about 70 miles wide that will cross the continental United States starting in the West. According to eclipse2017.Nasa.gov, "The first point of contact will be at Lincoln Beach, Oregon at 9:05 a.m. PDT. Totality begins there at 10:16 a.m. PDT. Over the next hour and a half, it will cross through Oregon, Idaho, Wyoming, Montana, Nebraska, Iowa, Kansas, Missouri, Illinois, Kentucky, Tennessee, Georgia, and North and South Carolina. The total eclipse will end near Charleston, South Carolina at 2:48 p.m. EDT. From there the lunar shadow leaves the United States at 4:09 EDT. Its longest duration will be near Carbondale, Illinois, where the sun will be completely covered for two minutes and 40 seconds."
The last time the contiguous U.S. saw a total eclipse was in 1979. This will be the first time, in 38 years, a total solar eclipse will be visible in the continental United States. Some are calling this one "The Great American Eclipse" because the west to east direct path will be available to millions of people.
The rest of North America, not in the ribbon of the path, will be able to see a partial exlipse, but if you are relatively close to the path, then perhaps a mini-vacation is needed to experience this event. It might only last for two minutes, but you may never get another chance.
Over the centuries, people who have experienced this phenonomen of Mother Nature, decribe totality as an eerie event, a life changing event and a moment. There are even eclipse chasers, those who plan vacations and family gatherings all over the world, around this two minute event, collecting eclipse sightings in a lifetime.
The cities that are in the direct path, are gearing up for the crowds and estimate that hundreds of thousands of people will come to their cities to experience such an event. Hotels in the direct path are charging astronomical prices, and homeowners have listed their homes on Airbnb.com hoping to cash in. Of course weather and clear skies will play a factor. If you have roosters make sure to put a video on them, as those in the path are said to get ready for bed and even "cockle dooodle doo" when totality is over.
So here at Words Travel Film, here's a book, travel deal, and film to keep you updated on the Total Eclipse of the Sun. Don't miss it.
Words: check out this book Totality, a bestseller on Amazon, or for a kid in your life, a great learning lesson, here's a kid's activity book: Solar Eclipse 2017: The Complete Kids' Guide and Activity Book includes map, puzzles & games for kids 5-11 for $ 4.95.
Travel: MY top picks to watch the total eclipse:
Oregon has a solar fest! Solarfest 2017 - Madras, Oregon -3 days of music & entertainment. Go camping.
Nashville, TN- Why not go to Nashville? Music, country, and solar eclipses, but don't try to book a hotel room, why? ON expedia, all hotels are sold out! Instead drive in and drive out to a nearby town out of the path.
St. Louis, MS- Still has available hotel rooms, and Airbnb rooms, so this might be a good choice.
Drive in and drive out to a city in the path, make a road trip out of it and experience totality!
Film: Watch the film, Totality, free on Amazon Prime. This film will get you prepared for the eclipse, and show you how the towns in the direct path are preparing for the crowds.
Let me know if you get IN the path! Love to see a picture or your thoughts! And, don't worry if you miss this one, another one starts in Mexico and ends up in Maine in 2024.
Words Travel Film -a blog for book reviews, travel reviews and what to watch or stream by author A.K. Smith- check out her international suspense novel on Amazon and insider guide, Travel Secrets. Thank you for being a subscriber or signing up through a book giveaway.
#solareclipse2017 #totality #Nasa #solareclipse #totaleclipseofthesun