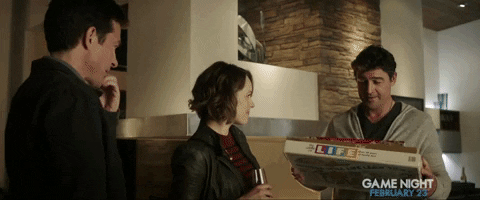 Game Night is more fun than playing board games with your neighbors.
If you haven't heard about the film, Game Night, it's playing in theaters now. It's been a long time, since I have repeatedly laughed out loud, watching a movie at the theaters. And I wasn't alone, as the movie patrons all around me roared. The film Game Night starring Rachel McAdams and Jason Bateman may not be Oscar worthy, but it is rip roaring fun.
The premise is simple, friends gather together for a night of charades, pictionary or board games. But, when Jason Bateman's brother, played by Kyle Chandler, decides to host a game night, he turns it up a notch, to a full fledged murder mystery party. You can let your imagination guess what happens next. The movie is full of one-liners and memorable funny scenes.
Perhaps, this will spur a new trend in the nostalgic game night of days gone by, or murder mystery parties. There's even a company, that will help plan your next event into a murder mystery. check out The Murder Mystery Company.
Speaking of parties, are you ready for the red carpet? Final preparations for Hollywood's biggest night are in place. Tomorrow night Sunday, March 4, 2018, the 90th year of the Oscars will be hosted by Jimmy Kimmel.
Maybe you haven't seen all of the nominated films—my pick for best picture is The Shape of Water—but regardless, the night will be full of entertainment and laughs.
If you want to have an impromptu Oscar party, print out the Oscar ballot, invite a few neighbors over and turn it into a game night. Write the titles of past Oscar winning movies on slips of paper, and do a few charades. Have everyone complete a ballot with their guesses. You can even turn it into a money wager and everyone anty up a $1 for each guess in the main categories, and give candy or movie passes for prizes.
If you want to mimic the food and drinks being served at the Oscars:open a bottle of champagne or Coppola wine. Cook some Miyazaki wagyu beef and forbidden rice (a paleo entree), ice down a raw bar with oysters, clams and shrimp and add in some black truffle chicken pot pie and Mac and cheese by Wolfgang Puck and you are in sync with the celebrities attending the Dolby Theatre in Hollywood. Or heck, make it easy, open a box of Kraft macaroni and cheese and a bottle of vino and you're there.
Happy Oscar watching and game playing.
Enter here for a Goodreads Giveaway of a print book, of A Deep Thing by A.K. Smith.
Thanks for subscribing to Words Travel Film.com. A book review, movie review and travel review blog.
g
#oscars #2018Oscars #AcademyAwards #GameNight #RachelMcAdams #Oscarprintableballot #AnitaKaltenbaugh #wordstravelfilm