The history of the Sand Castle & a sand castle contest for Rocky Point visitors.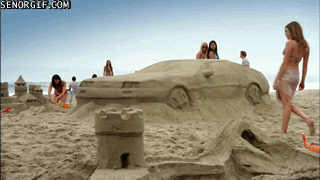 Raise you hand if you have EVER built a sand castle or sand sculpture?
Okay, when's the last time you tried your hand at building a sculpture in the sand? Would you like to go back to your childhood, and try again?
Building sand castles is not only entertaining, it's relaxing, artistic, and the idea of it has been around for centuries. How long exactly? Interesting question, and one that is not easily answered. I scoured the internet and historical research to find the origin, but it's a little unclear, a bit sandy you might say.
Some historians believe that building things in the sand may have been used as a way of communication, even before cave painting. Another presumption is that the ancient Egyptians created sand models of the pyramids, although there is no clear documentation. Some believe it originated in Japan or Hawaii.
Records show, during the 14th century, poet Balaram Das created devotional sand sculptures in his native India. But, the most popular documented sand sculpture was in 1897. Philip McCord created a sculpture of a drowned mother and baby in Atlantic City, New Jersey along the boardwalk. Passerby's would throw tips to the sculptor and soon word spread, and sand sculptors lined up on every block to show off their artistic talent. After a hurricane in 1944, the town created an ordinance banning the sand sculptures along the boardwalk.. The town leaders thought the artists and the sculptures were a nuisance. Art a nuisance?
However, that didn't stop sand castle builders from carrying on. In the 1970's, California became a sort of headquarters and the SSI (Sand Sculptors International) was created. Standards for Sand Sculpting Art was established setting the bar for future sand artists. This of course led to numerous festivals worldwide and beach events that award prizes to the artists.
The art of sand sculpting is unique as all it takes is water, sand and time. Sculptors can use bare hands or every day objects to create artistic works. All they need is a little imagination.
The largest sand sculpture event in the world, the International Sand Sculpture Festival or Festival International de Escultura em Areia (FIESA) has been held in Pêra, Portugal since 2003. An entire "sand city" is created with a festival and fifty sand artists give shape to forty-five thousand tons of sand, in an area of fifteen thousand square meters. Events center around this yearly festival and the images on their website are truly magical.
So, wanna try your hand at an age-old art and tradition? Let's have a sand castle contest right here in Puerto Penasco. Get your shovels, plastic cups, buckets and start creating. Grab a Rocky Point Times and have it in the picture with the sand castle or sand sculpture and email it to me. I'm giving away a $10 Amazon gift card to the best castle/sculpture shared with me. You can email me at anitaininmexico@aol.com and I will post all pictures on www.wordstravelfilm.com.
Rules: Create a sand castle, or sculpture in Rocky Point, Mexico. (Naturally, obscene images are disqualified) Images must be emailed to me by June 30, 2018. Images must either include a Rocky Point Times magazine in one of the photos or a long-distance shot showing it was taken in Rocky Point.
2018 Rocky Point Sand Art Contest. Get your sculpture posted on www.wordstravelfilm.com and first place wins a $10 amazon gift card, and the honorary title with a certificate declaring you as the of "2018 Rocky Point Sand Art Contest."
Amaze our seaside town with your talent, imaginations and effort. Who knows maybe we will attract other sand artists and have larger, more prominent sand sculpting competitions in the future. An amazing Penasco Sand Sculpture Event!
If anyone needs me, I'll be on the beach building sandcastles.
Check out my travel books.